Asus RT-N13U Wireless-N300 Router
MVR 2,120.00 Inc GST
Auto detect your internet connection type and manual free setup
Download Master: 24 hours downloading even PC is shut down
USB port for FTP/All-in-One Printer sharing
Universal repeater mode : extend your wireless signal coverage only by 3 steps
Compare
EZ All-in-One Printer sharing
The new ASUS wireless router distinguishes itself with the "auto switching" function. It not only enables multiple users to use multifuntion printer wirelessly without a PC or server turned on 24 hours a day, but also rules out the trouble of repeating "disconnecting" and "re-connecting" when users switch. When different users are to use the printer, the router switches automatically, which enables different users to use the printer simultaneously. After plugging in the USB printer into ASUS wireless router and running the ASUS Network Printer Setup program, each user can enjoy easy scanning and easy printing.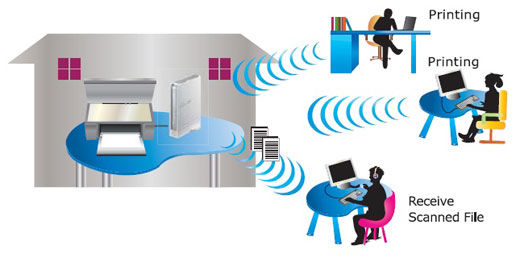 *For complete printer support list, please click here.
EZ Switch – Switch your Operation Mode only ONE-TOUCH
The ASUS' newly designed EZ Switch provides three operation mode, user can change it more easily, only ONE-TOUCH.

3 minutes complete FTP setting via ASUS AiDisk
AiDisk combines simple FTP settings with the ASUS DDNS service to share files with friends easily no matter when and where the user is. By simply utilizing the RT-N13U with a USB hard disk, users will be able to create a mini FTP server at home and only requires them to setup an account and password and select the file they want to share. With the bundled AiDisk quick installation guide included in the box, users can rest easy and not worry about complicated settings. Users will be able to easily create their own FTP servers with easily recognized and meaningful hostname like: ftp://yourname.asuscomm.com , instead of a hard to remember IP addresses or URLs.
Enhanced Download Master
24/7 Non-Stop BT Download:
HTTP, FTP, BT (BitTorrent) download protocols can be download automatically from the internet. You can keep downloading even when PC is off.
• Right-Click to Download. Point to the access you want to download and Right-Click your mouse. The program will start downloading.
• Double Click BT(BitTorrent) seed, "Download Master" program will run automatically.
* Need to install Download Master utility in PC side to monitor download status.
New BT Engine
New BT Download Engine, Enhanced Download Speed.

* The actual download performance varies to the health of the torrents and the network environment.
** Available for 6 torrents downloading at the same time.
QIS(Quick Internet Setup)
After buying router and preparing for setup, just connect to the router and QIS will automatically guide users to their browser's default home pages. Manual Free!
| | | |
| --- | --- | --- |
| | | |
| Step1: | Step2: | Stpe3: |
| Open your Internet browser (Ex. IE) and QIS will detect connection type automatically. | Follow the instructions and enter necessary information | Now you can navigate in the Internet as free as can be! |
Network Map
Straight-forward design to help users to
Display the whole network status and clearly provide WAN/LAN status
Securely connect to your wireless network and prevent intruders from using it
Manage your network in minutes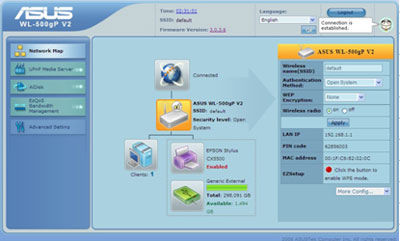 Dr. Surf
Dr. Surf, your personal wireless doctor, can automatically offer real-time diagnostics. Auto-detect Connection Problems
If there is any problem for internet connection, Dr. Surf can auto-detect and provide possible solutions.
Ex. Your cable is not connect with the router.

EZQoS – Quality of Service
With ASUS unique EZQoS engine, users can easily allocate bandwidth according to their individual needs by simply clicking on the buttons, such as voice or gaming, and assign more or less bandwidth to streamline multiple network activities (FTP, Games, P2P) to work smoothly at the same time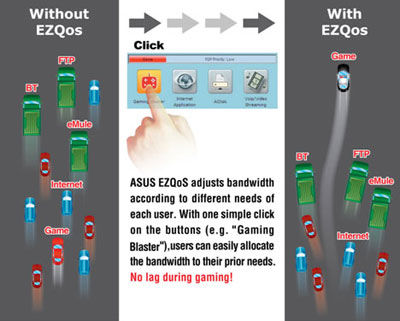 Going 3G-style Effortlessly*
Compact but versatile, the RT-N13U fits perfectly with the available HSDPA 3G USB dongle, turning it instantly into a mobile wireless router. All it takes is a power source, and the router can work wherever 3G can be found—with the full feature set available as usual. And since 3G is completely ubiquitous in most areas, users can easily get online and do everything they do at home while on the road. It's the easiest, most sensible way to get fast broadband router capabilities everywhere
Click here to open 3G USB Adapter Support List
*Only available with H/W Ver.:B1.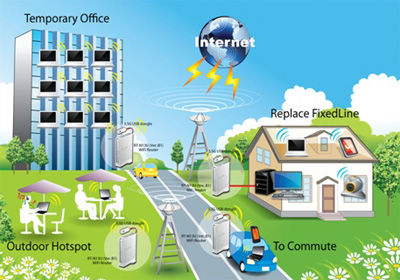 Specification
Network Standard
IEEE 802.11b, IEEE 802.11g, IEEE 802.11n, IEEE 802.11d, IEEE 802.3, IEEE 802.3u, IPv4
Product Segment
N300 complete networking; 300Mbps
Data Rate
802.11b : 1, 2, 5.5, 11Mbps
802.11g : 6,9,12,18,24,36,48,54Mbps
802.11n : up to 300Mbps
Antenna
Internal 3 dBi antenna x 3
Operating Frequency
2.4GHz
Encryption
64-bit WEP, 128-bit WEP, WPA2-PSK, WPA-PSK, WPA2-Enterprise, Radius with 802.1x
Firewall & Access Control
NAT and SPI (Stateful Packet Inspection) Firewall:
enable/disable WAN ping
allow access from WAN
log of accepted and droppedFiltering:
Single Port and Port Range
URL based
MAC Address
WAN Connection Type
Internet connection type : Automatic IP, PPPoE(MPPE supported), PPTP, L2TP
Dual Link support
Multicast Proxy support
Ports
1 x RJ45 for 10/100 BaseT for WAN, 4 x RJ45 for 10 BaseT for LAN
USB 2.0 x 1
Button
WPS Button, Reset Button
Power Supply
AC Input : 110V~240V(50~60Hz)
DC Output : 12 V with max. 1 A current
OS Support
Windows® 8 , 32bit/64bit
Windows® 7 , 32bit/64bit
Windows® Vista , 32bit/64bit
Windows® XP , 32bit/64bit
Mac OS X
Linux